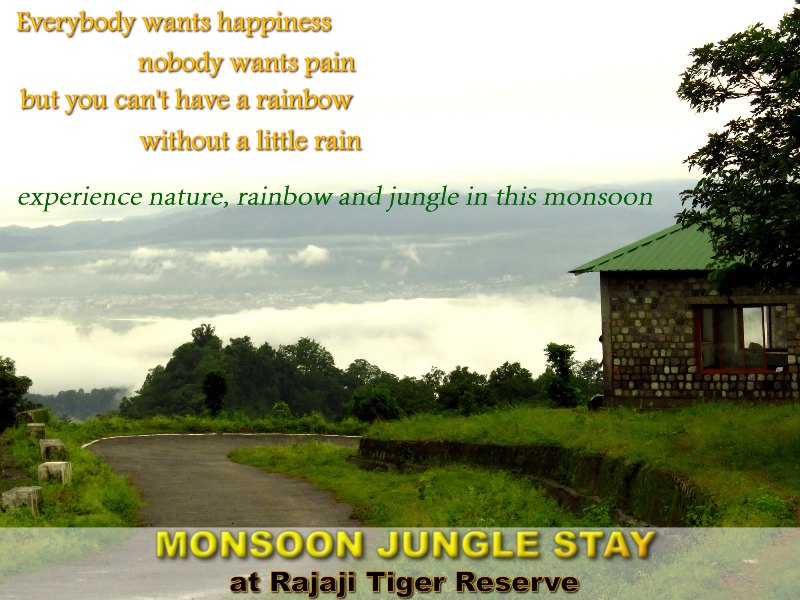 Staying inside the Forest provides an opportunity for experiencing and appreciating the bounties of nature. The monsoon, rain gives different experience while you stay in jungle. Nature walk, trekking, wildlife sighting, bird watching, nature photography, learning local culture etc are few things to look for while staying at our Forest or you just don't need to do any thing do self leisure in the nature by walking on jungle, village roads, just take tea/Coffee while it raining at your premises, read nature book or just wet yourself in the rain. Trained guides who belong to the region and are familiar with local flora and fauna escort visitors. Assistance is offered in organizing day tours and nature trails. We look after the safety and hospitality in our forests.
Wildlife Tour at Rajaji Tiger Reserve Experience the jungle feel.
Package: 2Days/1Night Wildlife Tour at Rajaji Tiger Reserve Reserve
Available for Dates: 2nd July, 2020 to 10th September 2020
1 Night Stay at Forest (Camp/Cottages)
3 Meals (Lunch, Dinner, Breakfast with morning, evening Tea)
Evening / Morning Nature Walk
Cost:
Started Rs.4000 per couple (for Indians)
Started Rs.5000 ($70) per couple(for Foreigners and NRIs)
Include
Not Included:
Transport, Personal Expenses, whatever not included
Safari in Buffer Zone
Please note:
As per new guideline by the Government of Uttarakhand, tourist need to get an E-pass by providing the COVID-19 negative report. Use following link to get E-Pass.
http://dsclservices.org.in/apply.php
Stay will be arrange in Camp/Cottages in the Forest.
Only Child upto 5 years are exempted. All person above 5 years will be full chargeable.
Keep rain coat, umbrella with you as monsoon/rain can be started at any time.
Feel free to write back for further query.
Please fill the form and Submit