About Rajaji Tiger Reserve
On 20th April, 2015 is now become an important day in Rajaji National Park history. Finally Center Government notified on 15th April 2015 Rajaji as 48th Tiger Reserve of India, and 2nd Tiger Reserve (1st is Jim Corbett) of Uttarakhand State.
In todays programme at Chilla Range, all the Forest Officials, Wild life officials, Tour operator were present. The Chief Minister of Uttarakhand Sh. Harish Rawat declared Rajaji National Park as Rajaji Tiger Reserve. The new logo of Rajaji in this occassion displayed. Every one appreciate the effort of some of wild life officier of Rajaji as their efforts got success today. On this occassion new declared extented area of Rajaji Tiger Reserve become 1075.17 Sq. Km. previously it was 820 Sq. Km.

Till 18 Tiger is identified in the buffer zone of Rajaji.

Benefits of Tiger Reserve
1. Registered as Protected area for Tigers
2. Tourist attraction
3. Huge Development fund for the Park
4. Eco-Tourism development
Loss:
1. Chances of Animal and Human Conflicts.

Rajaji Tiger Reserve inherited its name from the Rajaji Sanctuary, which was one of the constituent units by the amalgamation of which the National Park was created in 1983. The Park was formed by the amalgamation of Rajaji Sanctuary, Motichur Sanctuary, and Chilla Range of Pauri Forest Division.
Rajaji Sanctuary
#Rajaji #Sanctuary was named after C. Rajagopalacharilovingly known as Rajaji, the first Governor General of independent India, as it was on his behest that the sanctuary was created. It is said that when Rajaji, the newly appointed Governor General, was invited for a hunt he was so impressed by the biological diversity and plethora of wild animals in the area that instead of hunting, he suggested the creation of a wildlife sanctuary in the area.
The intent notification of Rajaji National Park (henceforth also referred to as the Park) was issued on 12 August 1983. The Park extends over the Shivalik Range from the Dehradun-Saharanpur road in the north-west to the Rawasan River in the southeast, with the Ganges dividing it into two parts. Some of the basic features of the Shivalik formations are to be seen in the Park and it is rightly known as a veritable storehouse of Shivalik biodiversity and eco-systems . River Ganga bifurcates the Park into two parts: the eastern part, consisting of the Chilla and Gohri ranges, stretches from the left bank of the Ganges to Rawasan River in the east and Shyampur Range of Hardwar Forest Division to the South. The northern boundary of the eastern portion of the Parkis defined by Laxmanjhula beat of #Gohri #Range of the Park
The western part of the Park consists of the Ramgarh, Kansrao, Motichur, Hardwar, Dholkhand and Chillawali Ranges. The erstwhile forest divisions from which Rajaji National Park was created and their areas are listed below.
Table- Forest Area under Rajaji Tiger Reserve
| S.No. | Name of Sanctuary/Forest Division | Area (Hectare) |
| --- | --- | --- |
| 1 | Rajaji National Park | 81954.41 |
| 2 | Haridwar Forest Division | 7409.19 |
| 3 | Lansdowne Forest Division | 16115.20 |
| 4 | Reserve Forest under Rajaji National Park | 2038.30 |
| | Total | 107517.10 |
*Source: Report published as in Forest department on Rajaji Tiger Reserve, Uttarakhand
Table- District wise area of Rajaji Tiger Reserve
| S.No. | Name of Sanctuary/Forest Division | Area (Hectare) |
| --- | --- | --- |
| 1 | Dehradun | 23656.72 |
| 2 | Pauri Garhwal | 43147.10 |
| 3 | Haridwar | 40713.28 |
| | Total area Rajaji Tiger Reserve | 107517.10 |
*Source: Report published as in Forest department on Rajaji Tiger Reserve, Uttarakhand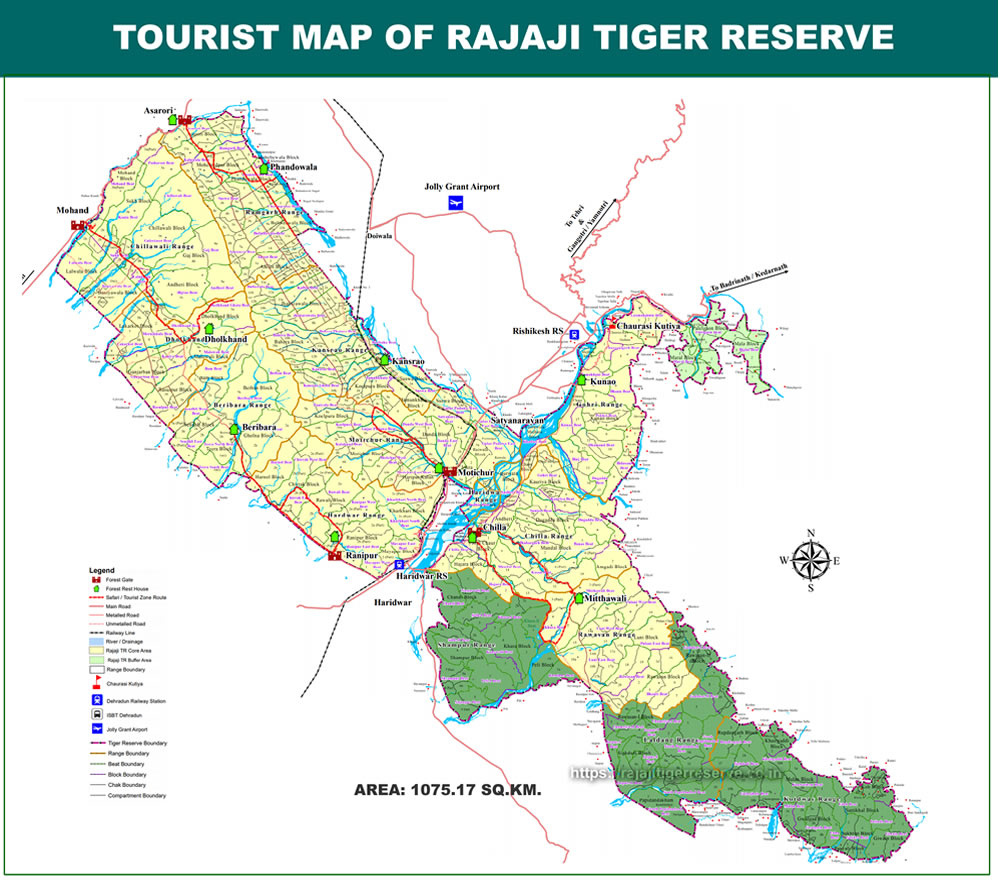 The Biodiversity of Rajaji
Rajaji teems with wildlife. It harbours one of the most diverse ranges of wildlife habitats. Forests of Rajaji include the Moist Shivalik Sal Forest, Moist Mixed Deciduous Forest, Northern Dry Mixed Deciduous and Khair-Sissoo forests in the Southern Slopes, Low Alluviaval Savannah woodlands cover the drier southern margis of the Park. The higher reaches of the Shivalik hills are swathered in Chir-Pine Forest.

More than 50 species of mammals including the highly endangered Asian Elephant and Tiger found in the Park. Besides tiger, leopard, Himalayan Black bear, sloth bear, Civet, Marten, Jackal, Hyena etc, it is estimated that there are more than 350 Asian elephants in the park. Goral (Mountain Goat) - a characteristic mammals of the lower Himalayas abound in the precipitous slopes of the Shivalik hills. Three species of deer - Sambhar, Spotted Deer (Cheetal) and Barking Deer (Kakar) and animals like Wild Boar, Neel Gai. Langoor, Black Napped Hare, Jungle cat etc are also found.

Over 300 species of birds are reported from Rajaji National Park, making it an important birding area in the Country. Of these, about 90 species are migrants, which include Pochards, Gulls, Mallards, Teals and Shellducks that visit the water bodies of Bhimgora and Virbhadra Barrage and wetlands of river Ganga. The resident Birds include Pea Fowl, Jungle Fowl, different Parakeets, Woodpeckers, Kingfishers, Thrushes, Warblers, Barbets and Finches etc. Great Pied Hornbill occupies a place of pride among the different Hornbills found in the Park.

Forest of Rajaji teem with insects who contribute very significantly to the ecology of the area. Spiders, Beetles, Termites and scores of other insects can be seen and heard inside the Park. The Park is also rich in butterflies.

The reptilian fauna of the Park is representd by various species of lizards, snakes and tortoise. The area is also known for its rich population of Pythons, Cobras and King Cobra. The rivers of the Park are rich in aqua fauna like Golden Mahaseer and other fishes.

Download Broucher