Chilla Tourism Zone, Rajaji Tiger Reserve
The Chilla Complex provides for eco-friendly bus, safari by the Park Jeep run by the locals, elephant ride and a small Interpretation Center-Cum-Library. The Bus, Jeep, Safari is a 2 and 1/2 hour circuit through a unique landscape passing through Mundal, Mithawali and Khara . Enroute one can enjoy the natural beauty of the forest or sight various wild animals including elephant. A brief half at Mundal and Ghasiram machans provides good opportunity to look around. Elephant rides are conducted in the morning and evening and needs to be books which are worth spending time with.
Forest Rest House (FRH) at Chilla
Chilla FRH is situated in the main tourism zone. it may be assessed from Haridwar on the National Highway 58 just after the long bridge on the Ganga from Chandi Gate. It is double store FRH built in 1883. It has 2 suites (double), a drawing-cum-dining room on the ground floor and one suite on the top floor. Electricity and water are available round the clock. Besides the old FRH 2 suites are available at the Chilla Annexe adjacent to the FRH. The visitor may get tea, food etc from canteen operated by the Eco-development committee.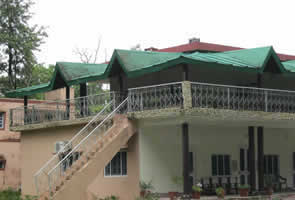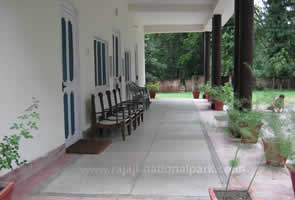 View Gallery - AC Suits | Annexis | Around FRH

Ganga Chaur Machan
It is a beautiful wooden machan located about 100m behind the FRH is an attraction for bird watchers and wildlife enthusiasts. it is an ideal spot toe relax and enjoy nature. the Ganga river spot, therefore, wild animals especially spotted deer, sambhar, wild boar, barking deer, Indian hare, neelgai, elephant etc. may be sighted drinking water there. One gets a remarkable view of the vegetation of Ganga Majhada (islands) patch which is a unique feature. Haridwar city, temples of Mansa Devi and Bharatmata are also visible from the Machan.
Arundhati - Tree
A ficus 'tree' as a tribute to the camp elephant "Arundhati" who served Rajajj Nationa Park and the forest Department for over 27 years died on October 2, 2007, has been planted near the near the FRH in her memory. She was a favorite among visitors and forest officials alike.